Water Extraction Services
While in words alone the action sounds simple, in restoration it's not as straightforward as it may seem.
In providing water extraction services careful attention should be given to the potential for hidden or trapped water and pockets of moisture.
A proper inspection will include the use of state of the art moisture detection equipment such as non-penetrating meters, penetrating meters and thermal imaging tools. Careful attention should be paid to wall and cabinet voids in preventing the possibility of overlooking potential pockets of hidden water or moisture damage. Any moisture left unattended can and will quickly lead to secondary damage or mold growth in building materials and your personal property and contents.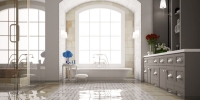 Keep in mind that mold growth can occur in as little as 24 to 48 hours from the onset of water damage inside your home  or business.
The extraction of water from inside your home or business can be accomplished using many of the tools available to the restoration industry today. From truck mounted and powered vacuum water extraction equipment to portable units giving us the ability to handle any water removal whether from a basement in a residential household or a 10-story commercial property.
What is Water Extraction?
Wikipedia refers to water extraction as "dewatering" and describes the term as the removal of water from solid materials or soil by wet classification. To be completely honest with you, in the more than 20 years that the team members and associates of iDry Columbus has been in the industry, none of us recall ever receiving a call for "dewatering" nevertheless and regardless of the terminology we have the knowledge and background experience in ensuring that any water extraction project we encounter will be completed properly with the health and safety of you, your family or employees of the utmost importance.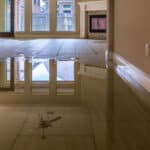 Pro-tip: Never enter or touch water or water damaged building materials or personal property that may be in contact with electricity. If you suspect that water has met any electrical device, contact a licensed electrician or your local fire department immediately.
Water Extraction Experts.
If you find yourself in need of water damage restoration services, whether minor or major, the team members and associates of iDry Columbus, with each of us striving to treat you, your family, home or business as if it were our own.
That's Guaranteed.
Water Removal… Fast
When water damage strikes, swift and professional water removal and through extraction is a must. iDry Columbus provides 24/7 emergency services to help minimize any damage to your home or office as the result of excess water.
When excess water pools in places that it shouldn't, mold and damage will quickly ensue. You can rest assured that prompt action will be taken when you call iDry for all your water removal needs.
We are a locally owned and operated water damage company and we pride ourselves on doing things the right way and with superior customer service with a personal touch.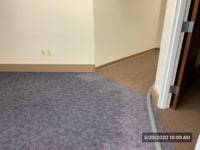 As an IICRC Master Certified company, you can rest assured that we keep up with the latest industry technology and practices.
iDry has been serving Columbus and the surrounding areas for all their water damage and water extraction needs for over 20 years, making us the most experienced team in Columbus and the surrounding communities.
If you require water removal services, call us as soon as possible and our rapid response team will work with you to get the ball rolling on the removal of water process for you. The faster you discover the problem and seek help, the better your chances are of making a full recovery of your home and furnishings.
Water damage happens rapidly; delaying the water elimination process by even a few hours can result in serious damage to your home and its contents.
Columbus Water Removal
iDry Columbus utilizes the latest and greatest water damage extraction technology to ensure the most professional service. Our team comes in equipped with commercial grade fans, advanced moisture meters and powerful water extraction tools that efficiently remove the excess water from your space.
With a prompt call to iDry Columbus and our high-tech water equipment, most of your home and valuables can be salvaged. Our high-tech drying process even saves most hardwoods, furniture and carpeting if action is taken quickly.
We are a full-service restoration company. Our water extraction process includes; disconnection of all electrical equipment, high powered water removal pumps extract all the water, damaged materials removal, and finally drying and deodorizing of your home.
Safety is our number one priority, so we ensure that all proper safety regulations are being followed to protect you, your home and our team from the dangers that exist in standing water situations.
Water Removal – Flooded Basement – Rain Water – Supply line broke
Water in your home or office is never a good thing. Whether the excess water was caused by flooding, sump pump failure or a burst pipe, you need to take immediate action in order to minimize the damage done to your home and furnishings.
When water threatens your home, there is no time to waste. You need to begin the process as soon as possible.
Standing water, if left untouched, will cause major damage to your home and belongings. From mold growth to damage to the integrity and infrastructure of your house, the consequences of water damage are serious.
Keep in mind that your first step in the water removal process that we would highly recommend, should be to call in the professionals who have the heavy duty, professional grade equipment to properly remove the water from your home. however, there are some things you can do to get the ball rolling while you wait for your emergency team to arrive.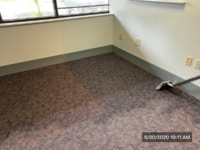 Remove As Much Water & Moisture As Possible
If you have a sump pump or wet vacuum and you feel comfortable, you can begin to remove the water. Keep in mind that electricity mixed with standing water is incredibly dangerous and the utmost caution needs to be used.
Never attempt to use your regular household vacuum to extract water from your home.
Remove Wet Objects
Any flooring that isn't secured to your home, such as area rugs, can be removed from the area and brought somewhere where they can dry out. Any valuables should be moved to higher, dryer ground and curtains or draperies should either be removed or tied up off the floor.
The more wet items that can be cleared out of the room, the quicker the water can be removed, and the drying process can begin. Do not attempt to remove any heavy furniture on your own.
Also, never try to rip up and remove carpeting or flooring that is anchored to your floor, leave this to the professionals if need be.
Assist the Drying Process
The first thing that you can do to help speed up the drying process is to open all your closets, cabinet doors, windows and doors (if weather permits). Opening your home to natural air flow is especially effective in low humidity situations.
You can also employ the use of fans and blowers to help move air around your home to speed up the drying out process. If you HVAC system has water damage, do not use the fans or blowers.
If you have a dehumidifier, now would be a good time to get that out and running. Dehumidifiers take the water vapor out of the air which allows the rest of the room to dry out. Again, be sure the dehumidifier is not being used in an area of standing water as electricity and water do not mix.
Emergency Water Extraction Professionals
Once your emergency water damage team arrives, they will get to work immediately on professionally removing all the water from your home. Using the latest technology and water mitigation equipment available, our water extraction process typically follows the following procedures:
Our experienced professionals will bring in heavy duty submersible pumps and truck mounted vacuums to suck up at any standing water.

This step helps to speed up the drying time and reduces your chance of having mold grow and any other secondary damage to occur.

After the bulk of the water has been soaked up and sucked out, wet carpet and padding can be removed.

This helps to protect the sub flooring. We aim to salvage as much of your homes' furnishings as possible, but dependent on the extent of the damage, some flooring may need to be ripped up and replaced.

Dependent on the situation, our team may introduce moisture detectors and hygrometers to determine what the moisture saturation level is. This level will give us an idea of what our steps need to be moving forward and the extent of the water damage to your home or business.
After the bulk of the water removal has been done, it is time to begin the drying process. Although your walls and flooring may appear to be dry, chances are there is retained moisture that will need to be thoroughly dried out. Thermal imaging tools will allow for a through inspection of potential damage to the building materials.
Many building materials are porous, which means they retain water. If the retained water is not properly dried up it can lead to mold growth and warped or damaged walls and flooring, making it vital that they be completely dried out before your home or business can be considered "back to normal."
Our certified team will come in with our cutting-edge tools and drying equipment such as dehumidifiers and air movers to regulate the temperature and humidity level in the affected space. Our specialized equipment includes the latest available technology in industrial dehumidifiers and air movers which will aid in removing all the retained water from the materials in your home.
The drying process is monitored closely using both non-invasive and penetrating moisture meters until the area is completely dry. Affected materials are monitored daily to ensure that the water elimination process is done thoroughly so you don't experience any secondary damage due to leftover dampness.
If mold is found present, iDry has a specialized mold remediation using environmentally friendly  cleaning methods and following written guidelines provided the EPA.gov and the IICRC . Mold in your home is not only dangerous for the integrity of your home's structure, but also dangerous to you and your family.
Mold spores can cause allergic reactions in many people with a myriad of side effects. If mold is found present in your home, rapid response and a detailed plan of action for remediation is critical both for your property and your health and safety.
Water Removal Services Near Me?
iDry Columbus is the number one water damage remediation company in Columbus. With over 20 years of experience in the water damage extraction and removal field, we have the knowledge and expertise to get the job done right.
We proudly serve Columbus and the surrounding areas and pride ourselves on being your hometown water removal experts.
Our customer service is bar none. We go above and beyond for our customers and treat each one as if they are family. Water damage in your home or business can be a stressful and scary time, we make the removal of water from your home process as easy and efficient as possible for you so that you can move on with your life.
Our services are priced affordably and line item estimates for restoration are written using Xactimate because we believe that every Columbus resident should have access to high quality restoration services from an experienced team, no matter what their budget.
Water Extraction Experts
We are available 24 hours a day, 7 days a week for your convenience. Water disasters do not only happen during normal working hours, so we make sure we are available anytime, day or night should disaster strike your home.
Our emergency response teams are on call and waiting should you need us. Don't want until morning to call your insurance company and professional water removal help, the sooner you get help, the better your chances are of recovering your home and belongings.
At iDry Columbus, we believe in doing things different, offering our water removal services with a personal touch that you just don't get with the other guys.
When it comes to something as important as your home or business, trust the best and most recommended – iDry Columbus. 614-810-0000
Renewed Standards in Restoration
With the understanding that our company alone may never change the entire restoration industry.
Many of our team members and associates have decades of experience in damage cleanup and each have made a pact that in the development of iDry Columbus, that a renewed standard would be created and used as the approach on every claim; even if that standard would only apply to the damage cleanup or property claims that we were involved in.
In making the decision to not enroll in or join "preferred vendor" relationships where the relationship becomes a carrier/vendor one instead of client/vendor due to rate discounts and the reliance on the possibility of future property damage claims; we've taken back the control and returned it to the client, where it should have always been.
Utilizing the latest in technology in drying equipment, low grain refrigerant dehumidifiers, low amp draw air movers and HEPA filtered air cleaning equipment, we continually deliver successful results in the restoration of building and property damage.
Its Restoration Redefined. Guaranteed.
Property damage inspections have been and will always be free of charge estimating and at no obligation to our client.
We've chosen to include the use of thermal imaging and highly sensitive moisture detection equipment on every inspection; allowing us to offer detailed and complete information, estimates, and/or proper drying recommendations by identifying areas of concern that may have been overlooked without the use of these tools.
If you find yourself in need of a damage cleanup company that's redesigning the restoration industry in our client's favor, we would appreciate any opportunity to be of service and will always perform in a manner that we would expect for our own family, home or business.
With service available around the clock and throughout Columbus, Ohio and surrounding communities, we recognize that the need for a damage repair company doesn't always occur during normal business hours, because of this, we haven't had normal business hours in more than 20 years.
Your Local Water Restoration Contractor
Master Certified and built from concept to performance. iDry Columbus – We are available 24 hours day in response to any emergency mold growth situation you find your home or business in.
Avoiding preferred relationships with insurance carriers and foregoing discounted rates and agreements in exchange for property damage claims allows us to service only our client. Every service we have the opportunity to provide is proudly backed and guaranteed for as long as you own your home or business.
Continually raising the bar in property damage restoration. Providing service for everything from damage cleanup, flooded basement, water extraction, sewage cleanup, building cleaning & disinfection and mold removal.
iDry Columbus – Emergency Damage Response – Guaranteed Service Area
Emergency flood water extraction, and mold removal services available around the clock and around the state.
We take great pride in the fact that our services are ranked and reviewed highly throughout Columbus and surrounding communities. We've built on our relationships with home and business owners, insurance carriers, adjusters, and agents throughout the state and across the Nation to ensure that your needs are met and every damage claim is prepared, serviced, and resolved quickly.
Large loss – Residential – Commercial – Industrial – Healthcare
Water Damage Cleanup & Restoration Services Available 24/7 Nationwide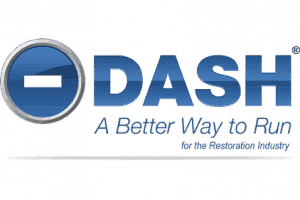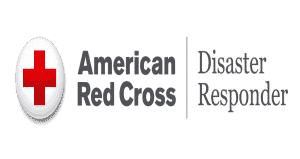 Water Damage Cleanup Services Near You